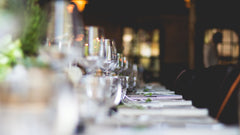 This is a quite simple operation when you know how! I like to start by placing the chairs around the table as they dictate the area allocated to each setting (or about 2 feet from plate centre to plate centre).  For ease of reference, follow these steps and you should end up with something like the drawing below. (table setting popbox-party.co.uk)
Place the charger plate or napkin directly in front of the corresponding chair, in the centre of the area.
Arrange the cutlery around the plate in order of use, from the outside in. Forks to the left, knife, and soup spoon to the right (with knife blade facing the plate)
Dessert cutlery go over the plate, handles outwards, spoon on top and fork below.
Side plate to the left of the forks (or above them if space is at a premium) with butter knife on top.
The cup and saucer go beside the knife and spoon, on the right side of the plate (or above them if space is at a premium).
When serving several beverages, such as water and wine, the drinkware is arranged with red wine glass in the middle, white wine to its right and water glass above the dinner plate.
Name place if using, goes above the dessert cutlery.
Variations on the theme
Despite the given rules of thumb, there are still plenty of adjustments that can be made to avoid very fussy and overcrowded tables. And let's face it, to help save on unnecessary rental costs too (though I didn't say that, of course!).
For instance, in some cases a separate tea/coffee station is preferred instead of setting individual cups and saucers on the table. After all, not every guest will want tea or coffee.
Usually, one utensil is enough for eating your dessert (though don't let your Mum see you eat the cake with your fingers either!).
Two sizes of glass may also be sufficient, one for water and another for wine. Most guests tend to stick to the one type of wine throughout the meal, and for those who want to change, you can simply offer a replacement glass when doing so.
As for the charger plates, attractive as they may be, they are certainly not going to be missed especially when you're keeping an eye on your budget!
As for napkin and name cards, the sky is the limit with so many beautiful and inventive ways to set them. If you don't feel you're creative enough yourself, go online - remember "Imitation is the sincerest form of flattery"!