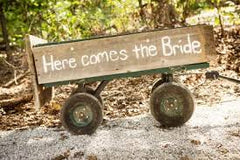 Lately I have been very much on "wedding planning mode" because of my niece's wedding next July, as you may recall from my previous blog - click here to read it if you have not already done so. I recommend it! As I write, I find myself just about waist deep in all the preparations – alas, the depth of my predicament is not quite as dramatic as one might expect with only 4 months to the date simply because the final "Go ahead" is still COVID pending (sigh).
It became apparent to me, after flicking through countless wedding photos in magazines and online that all weddings ended up blending into one. The structure is after all, always pretty much the same. White dress, rings, food, speeches, dancing. It is a tried and tested format that is much loved but let's face it, repetitive. That is why I think it is so important for couples not to let themselves be swept by whatever the latest fashion wave may be. Individuality has t be the key!
Over the past 17 years I have seen plenty of tableware trends come and go when it comes to weddings. At one stage, you would not dare let your guests sit on any chair without a proper cover and bow. Then there were the candelabra, the chargers, black plates, kiln jars for deserts, the chocolate fountains, slates instead of plates (God save us!), tablecloths, no tablecloths, sweet trolleys, gold cutlery, coloured glasses, vintage delph, you name it, the list goes on and on. It is almost as if you weren't properly married if your celebration didn't have at least one of these…
There is no denying that the animal side of us loves being part of a herd. There's safety in numbers (suspend your COVID comments for now), a certain comfort in blending in, a sense of belonging. And yet, despite all that, or maybe because of it, we also yearn to stand out in some way. We want to be noticed and appreciated, to make our mark, to be recognised. We want to be the same, but different!
Lauren Hutton once said, "Fashion is what you're offered four times a year by designers. And style is what you choose." Whether you are talking clothes or wedding receptions that same principle still applies. There is nothing particularly wrong with replicating a fashion or trend you like per se. By all means, jump on the bandwagon if you like, but do not just sit there – take the reins and steer the cart! Don't just blindly follow what's given, but rather adapt it to make it your own! That is the only way you can be sure your wedding will become the beautiful memory you want it to be, for you and everyone else.
So, where to begin? Well, there is a place where you can rent the ever-popular hessian garlands, colourful bunting, pretty china, and other interesting artefacts to adorn your chosen wedding venue and that's right here on our website! But before you start raiding our stash we recommend you begin by picking your brains instead. Identify those traits that are unique to yourselves as a couple, and devise ways to project those onto your celebration. Choosing complimentary décor will be easy-peasy after that!
So, there's your starting point – yourselves, the Bride & Groom (or the Brides, or the Grooms, we are all inclusive here, naturally). What kind of people are you? What are your interests and hobbies? Do you want fuss, flamboyance, or minimal styling? Rainbows or monochrome? Large or micro? Being true to yourselves is what it is all about. No point in doing anything just because others have, to keep up with the Joneses or because your Aunt suggested (although some Aunts do have the best ideas!). Put your personal stamp on every aspect of your big day. These are examples where couples did exactly that, by way of inspiration:
John and Maria designed and handwrote the invitations to their wedding. He drew the picture, and she wrote the inside – it was one of the few invitations I have ever kept because it was so unique.
Having initially decided not to buy a traditional white dress for her "BBQ in the park" wedding, Faith eventually chose to wear her Mother's wedding dress instead. With a few minor and inexpensive alterations, she donned a beautiful (vintage!) gown on her big day. But she still went barefoot!
James and I chose hymns for our wedding mass that everyone was able to sing along to. It made for a more joyous and intimate celebration, where all those present felt included and not just spectators. There were no Pavarottis, but it still worked perfectly!
Sharon and David got married at home, under a beautiful tippee they made of tree bows, flowers, and ribbons. After the ceremony, instead of confetti they were showered by colourful soap bubbles made by their kids.
Irene and Tony named their tables after famous horses because they are both avid horse racing fans. Their guests' place names were written on ivy leaves collected in Irene's home backyard.
Chris and Kim's wedding cake was made and decorated by her Parents, who also made the cakes for all her three sisters' weddings – it became a family tradition.
Another different cake story is Paul and Fiona's – theirs was made of rounds of cheese instead of batter, because neither of them was particularly fond of desserts.
Laurence, an accomplished tennis player, wrote his whole wedding speech in verse, using tennis jargon throughout. It was an absolute hit! He also decided to have the speeches before the meal so that he could fully enjoy himself the rest of the evening, having done the "hard part"!
Aidan and Sheila loved to go to nightclubs, so they skipped the band and invested instead in a longer DJ session, complete with disco ball and lights. They even compiled a list of their favourite songs to be played – it was their night after all, and they only wanted to hear and dance to what they liked!
(I will share some photos of these weddings on Instagram so keep an eye out for that!)
If you think back to all the weddings you have ever attended, what exactly would you say was particularly special about any of them? I venture to say some small detail along those lines, but I would sincerely love to read about what might have stood out for you – and I would love to share them in my future blogs. Just email them to claudia@theplatelady.ie
So, there you have it – there are no right or wrong decisions in the end. It's your day and you call the shots. Simple as that. You can stick to the traditional or be as inventive as you like. You're steering the wagon, remember?